Decorating a living room takes creativity. You'll need to study the room to find out what would fit seamlessly into that space. LED lighting has become a trendy idea in modern homes and industries. You can find them almost everywhere; offices, living rooms, bedrooms, bathrooms, and hotels. Designing your living room with LED lights is a creative way to brighten up the space while adding more aesthetic value to it.
Are you considering embedding LED lights in your living room? Do you need ideas on how to do it the best way? This post has some unique tipsfor you! Check them out!
Living room LED lighting ideas- 5 best ideas you should try!
I have some awesome ideas for you! These ideas will set the mood and brighten up the atmosphere. Also, they are pretty easy to incorporate, I promise! Let's see;
You can mount strip lights on your living room wall. The TV background wall is definitely a location to try out. This TV wall is an important part and usually plays a considerable role in the living room decor. Having LED lights on this wall could create a better ambiance and set the mood when watching the television.
However, it would be best to create a dim-lit effect when using LED strip lights on this wall so that the color contrast doesn't cause dream-color lighting. This way, you protect your eyesight while enhancing the milieu of the room.
The ceiling is probably the most obvious place to install LED lights. This is because it can help in the illumination of the whole room. To create a well-lit room, you can mount a led aluminum strip on them. But if you already have ceiling lights in your living room, it wouldn't be a terrible idea to throw on some strips to create a layering effect. Mix-matching strip lights with other forms of lighting could make the room feel more relaxed and cozier.
So how'd you want to go about this the right way? The essential part of doing this is to choose the right colors. Also, the colors you choose will need to complement the living room's decor style and color scheme.
The couches and sofas are the main components of the living room. Providing a comfortable resting space starts with the right choice of these sitting pieces. They occupy a large part of the living room, so they should be placed meticulously.
Meanwhile, while choosing the proper position, you might want to try out some additional decor ideas to complement it. Installing LED lights below the sofa will improve the decor style and make the room feel cozier in the dark. If you're the type to host parties, strip lights that flash with different colors will brighten the room and set the party mood.
If you have a center table (coffee table or a small stool) in your living room, surrounding them with LED strip light can bring a whole new look different from what you originally had. Usually, LED strips installed under tables are accompanied by the strip light on TV background walls and under the sofa. You can hop on this trend because it helps create a balance that reduces the light effect of using one alone.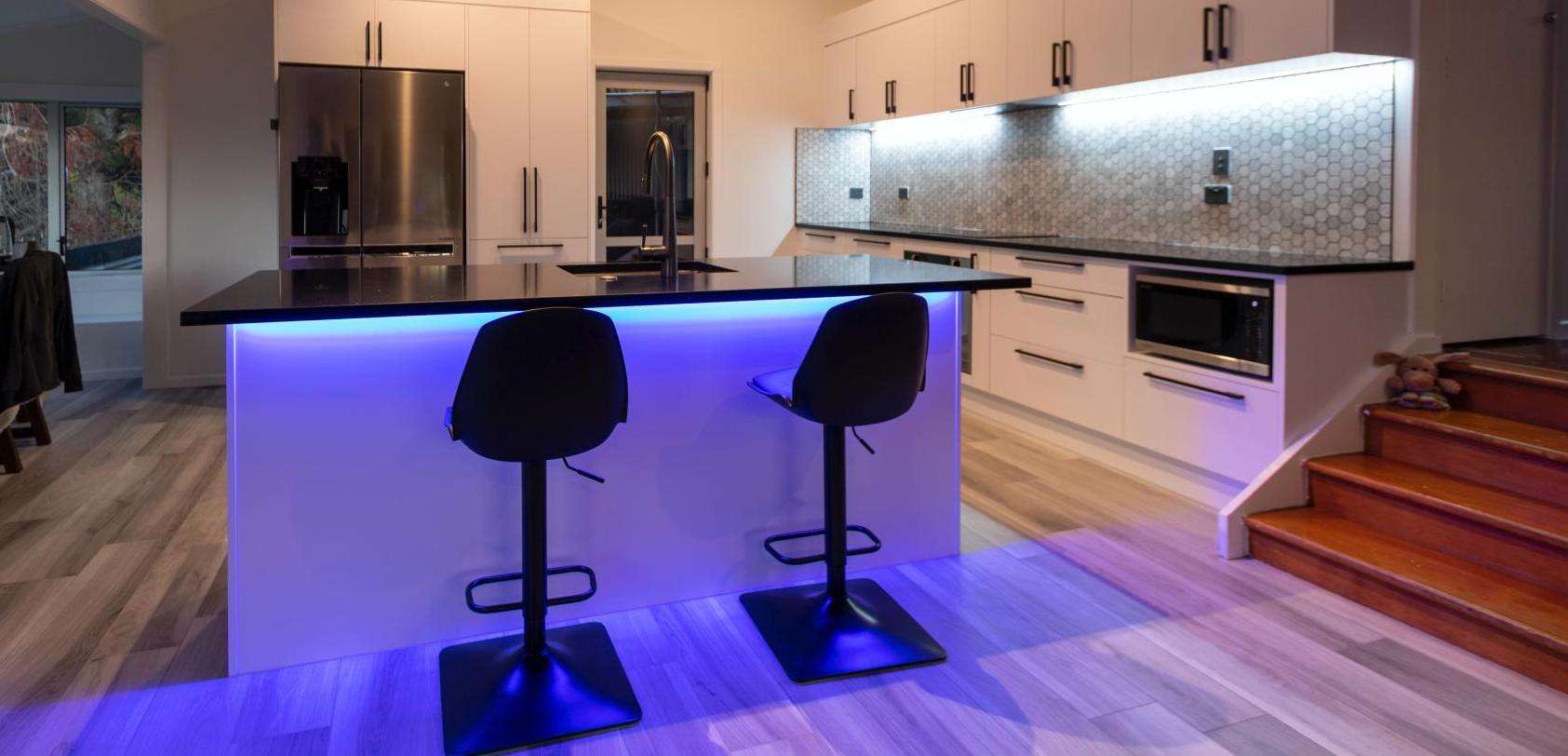 However, if you're looking for something less chunky, you can use just this style while accompanying it will some matching centerpieces for an elegant appearance.
If you happen to own any shelves (bookshelves, ornament shelves) in your living room, you can circle them with some strip lights to make them pop. The strips are not the only options available for LED lights in the living room. There are also the LED candles and light globes that have dozens of LED bulbs in them. This version of LED lights is better when you want to place them on sideboards. You can easier mount them on the shelves and still get the effect you want. 
These are just a few of the best you can try out. However, nothing stops you from getting more creative and playing with these ideas. Who knows, something interesting could come up.
Choosing living room LED lights- tips for you
Since all LED strips are not the same, you need to know the suitable options that suit what you intend to use them for. Consider these factors when buying LED strip lights for your living room.
Different times of the day will require lights of different intensities. During the day, you may need a warmer and cooler hue, while you'll need brighter lights at night. This means you should opt for LED strips with adjustable brightness settings.
This type of strip light responds to sounds or music being played in the room. It literally dances to the music. You can get this light if you love to host parties in your living room.
Led lighting comes in different colors. Some even come with adjustable color settings that allow you to change the color whenever you like. 
Over to you!
I hope this post contained practical ideas you would be willing to try out. Embed these LED aluminum strip lights in your living room and improve the room's ambiance. Start by planning the decor style and move on to mix-matching them with strip lights.