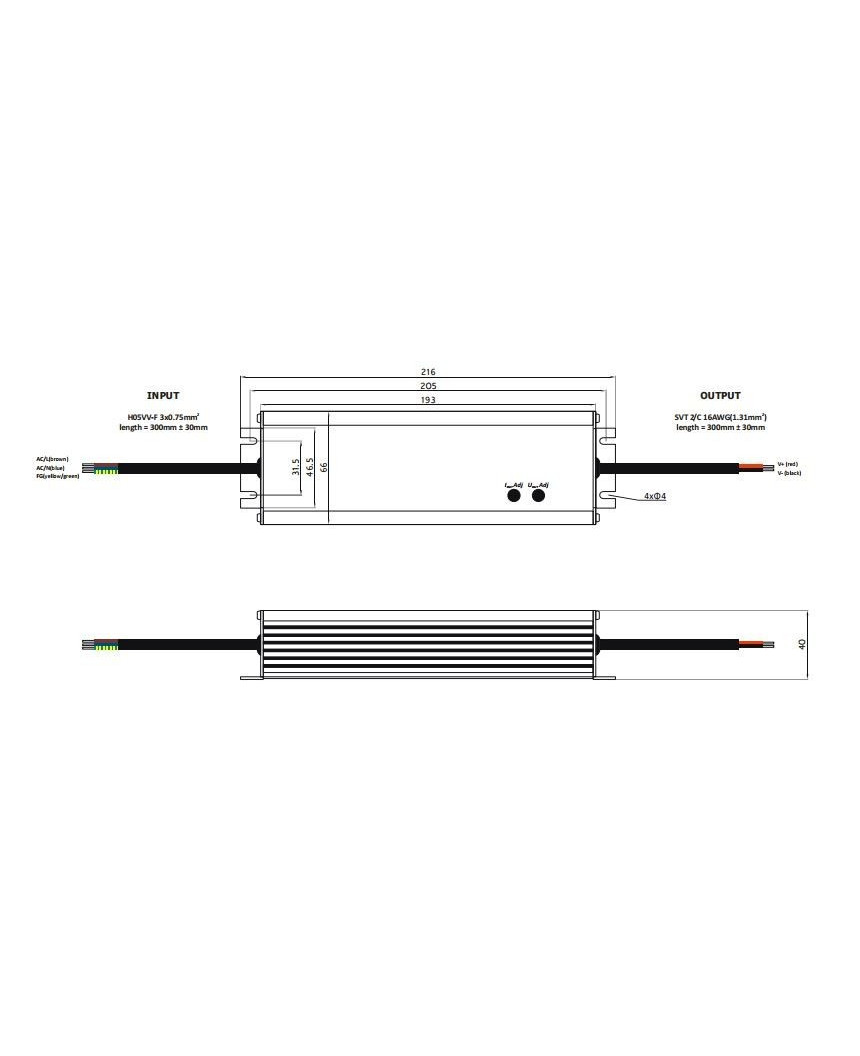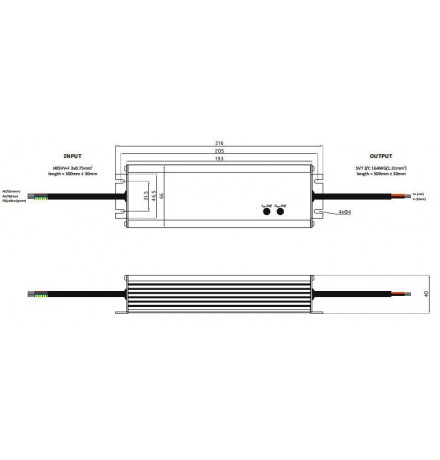 100W 24Vdc Single Output Switching LED Power Supply with PFC Function
44.00 VAT excl.
£52.80 VAT incl.
100W 24Vdc Constant voltage LED Power Supply, Single Output, GL Power, GLG-100-24
- Suitable for LED lighting
- CV + CC mode
- Universal AC input
- IP65
3 years warranty

You can order online 24/7, all ordered goods will be dispatched as soon as possible and we will notify you via e-mail. For custom made orders please contact us.

Orders over £500 (excl. VAT) Standard and Next Day service apply to UK mainland and Northern Ireland only. All orders will be sent by a trackable method.

You have the right to cancel your online website order within 14 calendar working days of ordering, or 14 calendar days of receipt of the goods (whichever is the longer).
Single Output Switching LED Power Supply with PFC Function, GL Power, 3 years warranty
Model: GLG-100-24


Output:
LED driver mode: constant voltage
Output Voltage: 24Vdc
Constant current region: 12 ÷ 24V
No of outputs: 1
Rated current: 4.2A
Output current adjustment range: 2.2 ÷ 4.2A
Output voltage adjustment range: 20 ÷ 26V
Rated power: 100.8W
Line regulation: ± 1%
Load regulation: ± 2%
Voltage tolerance: ± 3%
Ripple & noise (max.): 250mVP-P
Setup, rise time: 1300ms, 80ms / 230VAC; 2500ms, 80ms / 115VAC
Hold up time (typ.): 40ms / 115VAC, 40ms / 230VAC


Input:
Input Voltage: 90-264Vac
Frequency range: 47 ÷ 63Hz
Efficiency: 88%
AC current (typ.): 1.6A/115VAC, 1A / 230VAC
Power factor: PF > 0.95 / 230VAC; PF > 0.98 / 115VAC
Inrush current (typ.): 75A / 230VAC
Leakage current(max.): 1mA / 240VAC
Protections:
Overcurrent:
- range: 95 ÷ 110% rated current
- type: constant current limiting, auto-recovery
Short circuit:
- type: hiccup mode, auto-recovery
Over voltage:
- 33 ÷ 40V
- type: shut down output voltage. Re-power on to recovery.
Over temperature:
- range: 140°C ± 10°C(detect on main IC)
- type: shut down output voltage. Auto-recovery after temperature goes down


Environment:
Working temperature: -30°C ÷ 70°C (Refer to Derating Curve)
Working humidity: 20 ÷ 95% RH non-condensing
Storage temperature and humidity: -40°C ÷ 80°C, 10 ÷ 95% RH non-condensing
Temperature coefficient: ± 0.03% / °C (0°C ÷ 50°C)
Vibration: 10 ÷ 500Hz, 2G, 10min / cycle, period for 60min. each along X, Y, Z axes
Safety and EMC regulations:
Safety standards: compliance to EN61347-1, EN61347-2-13, IP65
Withstand voltage: -P/O-P: 3kVAC; I-P/GND: 2kVAC; O-P/GND: 0.5kVAC
Isolation resistance: I-P/O-P, I-P/GND, O-P/GND: 100MΩ/500VDC/25°C/70%
EMC emission: compliance to EN55015
EMC immunity: compliande to EN61547; EN55024; EN61000-4-2, -3, -4, -5, -6, -8, -11
Harmonic current: compliance to EN61000-3-3; EN61000-3-2 class C( ≥ 50% load)
TÜV certificate

Other:
Dimensions: 216 x 66 x 40mm
Weight: 0.95kg
Termination style: flying leads, length = 300mm ± 30mm (INPUT: H05VV-F 3x0.75mm; OUTPUT: SVT 2/C 16AWG (1.31mm ))
IP67
Data sheet
Type

Constant Voltage

Ingress Protection (IP)

IP65

Output

24VDC

Wattage

100W

Dimming Control

Non-dimmable

Design

Metal case

Power factor correction (PFC)

Built-in active PFC function
No customer reviews for the moment.
16 other products in the same category:
Customers who bought this product also bought: